Easter Tennis Camp
Due to Government Guidelines we have to cancel our Easter Camps
Summer Camps will be in Following Locations on these dates
Terenure College €65 per child (sibling discounts)
Mon 5th July to 9th 10am to 12pm
Mon 5th July to 9th 2.30pm to 4.30pm
Monday 12th to 16th 2.30pm to 4.30pm
Monday 19th to 23rd 2.30pm to 4.30pm
Monday 26th 30th 2.30pm to 4.30pm
Tues 3rd Aug to Sat 7th 2.30pm to 4.30pm
Mon 9th to Fri 13th 2.30pm to 4.30pm
Mon 16th to Fri 20th 10am to 12pm
Mon 16th to Fri 20th 2.30pm to 4.30pm
All Bookings to Brian by Text 0868228806
Castleknock College €70 per child (sibling Discounts)
5th July to 9th July 10am to 12.30pm
16th Aug to 20th 10am to 12.30pm
All Bookings to Brian by Text 0868228806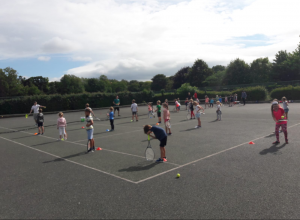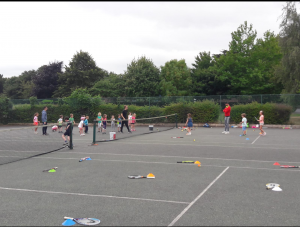 Covid 19 Guidelines
All coaches and Assistants will have their temperatures checked each morning before camp starts to make sure all are healthy and fit to coach and not displaying any symptoms of Covid.
All tennis nets will be spayed down before entry into courts.
All children will be asked to use hand sanitizer provided by Deucepoint Coaches on entry to courts each day.
Social Distancing will be done inside courts and on pitches where other games will take place.
All equipment including tennis balls and any rackets borrowed each day will be cleaned down after use each day.
Children will be asked to sterilize hands before leaving at end of day.
All pods will be seperate from other pods and will not be near any other pods in the camp.Children cannot switch pods at any stage.
ALL parts of camp this camp will be outdoors. If rain is forecast, children will be asked to bring raincoats. If there is very heavy rain shelter will be taken. Due to social distancing we cannot take shelter indoors.
Toilets will be on site in the form of a Portaloo, with hand sanitizing at entry and with soap etc inside. We ask children to use toilet at home before they arrive at their 2 hour camp.
Guidelines for drop off and collection will be updated day before camp.
If any child has travelled abroad recently, they must have completed 14 days quarantine before attending our camp.
If a child has been in close contact with a positive Covid-19 patient etc we please ask you to ensure they have self isolated for 14 days before attending camp and if child feeling unwell or a family member to stay at home.
We must protect all our camp participants, their families, all our coaches and assistants at camps .
What to bring to camp
A Racket if have 1 or we can provide but will mean we have to clean down after so if have own please bring!
A small bottle of water and 1 piece of fruit (no nuts as few children have allergies please)
No fizzy drinks or sweets as we are promoting good health and fitness, there will be small treat for children in a goodie bag at end of week
A raincoat as we will be outside all summer and taking shelter if it is very heavy rain!
Birthday coming up???
We are offering outdoor multisport birthday parties for children in Terenure and Castleknock with Tennis, Football, Unihoc, Rounders and many other games! Pods will be limited to 14 children but with great rates per child. Contact Brian for more details. Parties available for Friday, Saturdays and Sundays
All bookings through Text message to 0868228806 we are getting huge volume of messages and calls but we will get back to you soon.
Our Tennis and Badminton coaching will be a FUN way to learn and develop tennis skills among junior players, particularly beginners and intermediate players, around whom the camp is largely based.
Our camps brings the players through the basic essentials of sound technique which are needed to learn and enjoy tennis. Our objective is to give the boys and girls a love for the game and a positive experience in learning tennis, in an encouraging and relaxed atmosphere.Tennis and Badminton are both games for life the earlier you start the better and you will never look back!
We believe we will make a difference to each child's life.
We believe in caring for, and encouraging each child and to let them progress at their own pace.
We believe in developing a love of sport for life and tennis is one of the best games to develop social skills in a calm and fun class.
We do this by using age appropriate equipment and employing the most qualified coaches and assistants to deliver our methods of teaching that allows every child to achieve success at their own level.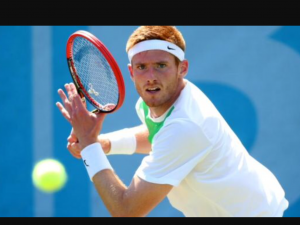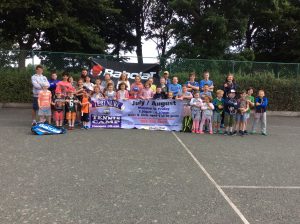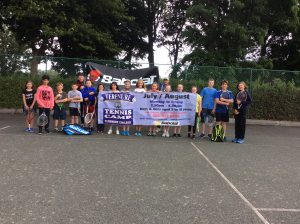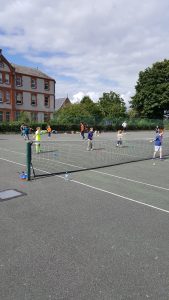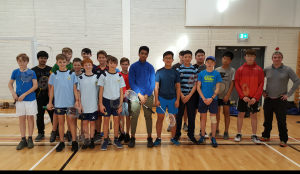 We are determined to bring tennis and badminton to as many children and adults as possible in Ireland, especially the ones who might otherwise be lost in other games. Why? Because we know how much this great sport has to offer every child and adult alike from being able to pick up a racket whether your 5 years of age or 85 years of age
Our tennis and badminton programmes are about developing young confidence, skills and a love of sport for life.
We want to bring that to a whole new generation of children in Ireland from all backgrounds.
On December 2nd & 3rd we ran a fundraiser in our weekend classes for St. Vincent de Paul. All our coaches gave their time for free, and all the pupils, parents, coaches & friends donated generously. We managed to raise in excess of €1,000 for this worthy cause! We were delighted to be able to help those in need at Christmas.